Join us on the 2nd and 4th December 2014 as we usher in the Christmas spirit with the incredible sounds of some of South Africa's favourite musicians!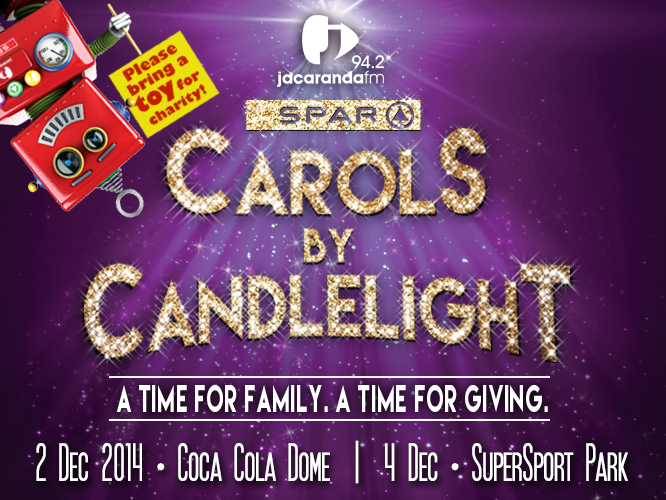 Bring festive cheer to your loved ones on 02 December at the Jacaranda FM and SPAR Carols by Candlelight. The Coca-Cola dome is transformed into a Christmas paradise, with fairy lighting and Christmas décor setting the stage for some of South Africa's top performing artist acts including; Kurt Darren, Nianell, Jay, Connel Cruise, Nadine, Khaya, The Mzansi Youth Choir, Matthys Maree and Brendon Ross.
Children are entertained with face painters and jumping castles in the SPAR kiddie's area; whilst some parents and kids boisterously echo Christmas carols being performed throughout the evening.
Entrance is free but we are requesting families to bring a toy which will be donated to underprivileged children.
Carols Centurion
Date: 4 December 2014
Venue: SuperSport Park, Centurion
Time: Gates open 4pm, Show starts 7pm
Line up:
Kurt Darren
Nianell
Jay
Connel Cruise
Nadine
Khaya
Mzansi Youth Choir
Mattthys Maree and Brendon Ross
Important info:
– Picnic baskets are allowed (no glass, sharp objects or hard liquor)
– No gazebos or umbrellas
– Bring along your picnic blanket or camping chairs
– Purchase your songbook @R10 and candle @R25 or both for only R50 on the day. All proceeds go towards the Jacaranda FM Good Morning Angels Fund
– Kiddies area by SPAR
– Meet some of your favourite Jacaranda FM Presenters