The Dairy Cow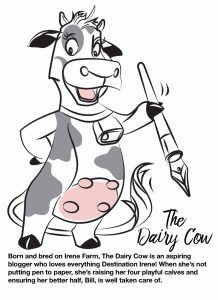 Born and bred on Irene Farm, The Dairy Cow is an aspiring blogger who loves everything Destination Irene! When she's not putting pen to paper, she's raising her four playful calves and ensuring her better half, Bill, is well taken care of.
Bill

Head of the herd, Bill takes great pride in working the fields of Irene Farm. He loves nothing better than returning home to the barn each evening where his family eagerly listen as he tells them stories about his day. The ultimate family man, Bill makes sure they have all they need to enjoy a good farm life.
Bella

Bill and The Dairy Cow's oldest daughter, Bella, is a teenager going on 21! With her growing circle of friends (bulls included) and her busy social life, Bella loves to mingle with all the visitors to the farm. Her cell phone is always on hand for a quick selfie or that perfect farmyard pic!
Diesel

A hunky teenage boy, Diesel is Bill in the making! Grooming him to one day take over the farm duties, Bill enjoys showing his eldest son the tricks of the trade. When he's not out in the fields with his dad, Diesel is pumping iron in the local gym. The Dairy Cow has had to get used to all the young cows knocking on their barn door for a walk in the fields with her Diesel!
Mina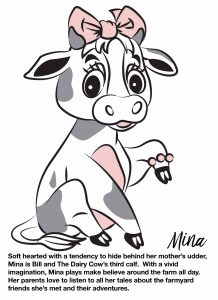 Soft-hearted with a tendency to hide behind her mother's udder, Mina is Bill and The Dairy Cow's third calf. With a vivid imagination, Mina plays make-believe around the farm all day. Her parents love to listen to all her tales about the farmyard friends she's met and their adventures.
Otis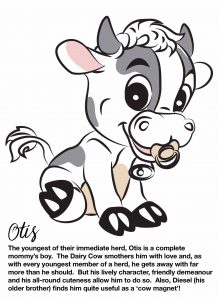 The youngest of their immediate herd, Otis is a complete mommy's boy. The Dairy Cow smothers him with love and, as with every youngest member of a herd, he gets away with far more than he should. But his lively character, friendly demeanour and his all-round cuteness allow him to do so. Also, Diesel (his older brother) finds him quite useful as a 'cow magnet'!
Moooria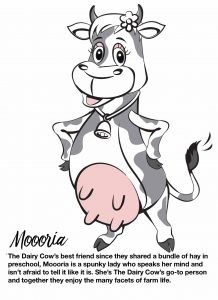 The Dairy Cow's best friend since they shared a bundle of hay in preschool, Moooria is a spunky lady who speaks her mind and isn't afraid to tell it like it is. She's The Dairy Cow's go-to person and together they enjoy the many facets of farm life.
Stan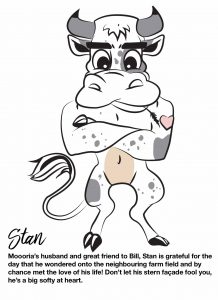 Moooria's husband and great friend to Bill, Stan is grateful for the day that he wandered onto the neighbouring farm field and by chance met the love of his life! Don't let his stern façade fool you, he's a big softy at heart.
Mr and Mrs Swan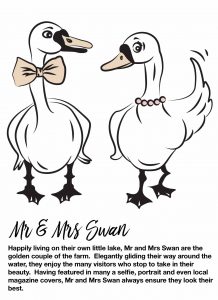 Happily living on their own little lake, Mr and Mrs Swan are the golden couple of the farm. Elegantly gliding their way around the water, they enjoy the many visitors who stop to take in their beauty. Having featured in many a selfie, portrait and even local magazine covers, Mr and Mrs Swan always ensure they look their best.