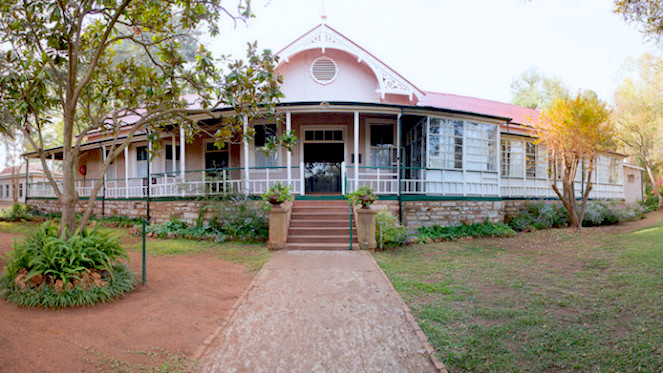 Smuts House Museum (the 'Big House') was home to General Jan C. Smuts (1870 to 1950), one of South Africa's greatest sons.
He bought the wood and iron building that had served as the officers' mess for £300.
It is believed that the building was originally prefabricated in Britain, taken to India by the British Army and later shipped to South Africa. It was then dismantled and brought to Pretoria by rail. It arrived at the Doornkloof farm by ox wagon, where it was re-erected at the substantial cost of £1000 in 1909.
General Smuts was at sea, on his way to England. He was a member of the National Convention delegation when Mrs. Smuts moved her family into the house on 10 July 1909.
The plan was altered on rebuilding and as the years passed, a kitchen and pantry (1918) and other rooms were added. The verandas were enclosed (front veranda, 1942). The Big House is, however, substantially as it was a century ago.
A visit to the Museum:
When you visit the museum, the unpretentious building strikingly illustrates Smuts's indifference to luxury and ease of living, and here he spent the happiest hours of his life.
After his death in 1950, Mrs Smuts continued to live in the only real home she had ever known, until her death in 1954. Both General and Mrs Smuts died in the Big House.
Their ashes were scattered, as were other members of the Smuts family, on the top of Smuts Koppie – the rugged hill behind the house
The Smuts House Museum seeks to represent General Smuts's lifestyle and multi-faceted career, as well as to promote the holistic vision on which he expounded in his life and writings.
This slideshow requires JavaScript.
Contact details:
Tel:  Anne Anspach (General Manager) 012 670 9017
E-mail: admin@smutshouse.co.za
Website:  http://www.facebook.com/smutshousemuseum
Opening hours:                08h00 to 15h30 every day except Good Friday, Worker's Day, Christmas Day and New Year's Day.
Facilities include :
Ouma Isie's Tea Garden:  open daily, (except Mondays) for teas and light meals, with special Buffet Lunch on Sundays.
The Oubaas Walking Trail, a circular walk of 2,3km up to the Kopjie and Smuts' Monument.
An Arboretum and Place of Quiet.
Tranquil Picnic spots in beautiful, shady areas on the grounds.
Catering for functions and events in peaceful, secure surroundings.
Till next week!
THE DAIRY COW