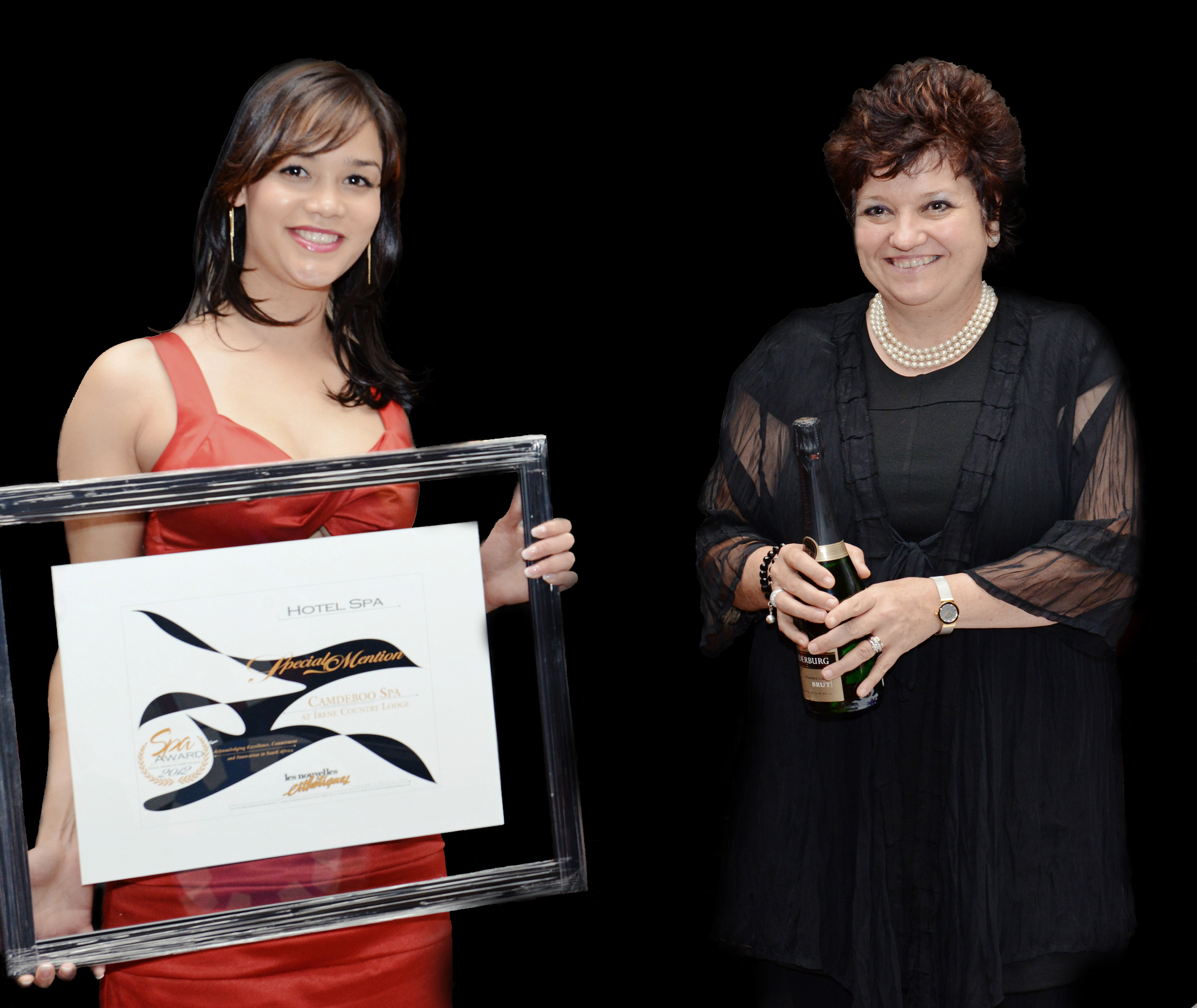 Camdeboo Day Spa, located at the African Pride Irene Country Lodge, Centurion has received distinctive recognition at the 2012 Les Nouvelles Esthétiques South African Spa Awards – the most respected industry awards in the country.
Only two spas on the African continent were honoured with distinctive recognition:  Camdeboo at Irene, Centurion, and the Sanctuary Spa Indigo Bay, Bazaruto Island, Mediterranean coast.
Now into its eighthyear, the awards recognise the highest standards within the spa, health and wellness industry and are designed to stimulate service excellence among local spas.
"As a first time entrant, it is a remarkable achievement to have been identified as a Spa of Distinction – on a par with international spa trends. "We are deeply humbled to have been recognised by our peers," says Carmenita Pedro, Camdeboo Spa Manager.
"At Camdeboo, the customer experience is paramount. Our staff are enrolled in on-going training and recognition programmes. This keeps them abreast with current industry trends, and internal programmes keep staff informed on the individual requirements of our guests," says Pedro.
The staff and management take guest feedback very seriously, and adjust and upgrade spa offerings in response to guests' needs and requests. "It is our mandate to not meet, but exceed the expectations of our valued guests," she says.
Situated in the picturesque valley of Irene, twenty minutes north of Sandton, Camdeboo Spa offers a naturally beautiful, secluded, and harmonious environment in which to escape from the frenetic pace of modern life.
Pedro is committed to maintaining the standard that has come to be expected from the spa, and aims to continue collecting accolades with the support of her highly qualified team.
About Camdeboo Spa
Camdeboo Spa & Restaurant, surrounded by lavish gardens and a stinkwood forest which lends the spa its name, is housed in a century-old building. The spa is part of the African Pride Irene Country Lodge, which has been developed on hectares of open farm land and boasts historical charm dating back to the 1800s. A haven of luxury and relaxation, this pristine and intimate spa offers skin and body treatments designed to soothe the mind, rejuvenate the body, and transform your mental and physical stress into total relaxation.
For more information review Camdeboo Spa specials on www.irenecountrylodge.co.za or call 012 667 6464
About Les Nouvelles Esthétiques Awards
The Les Nouvelles EsthétiquesSouth African Spa Awards are the country's premier spa awards. Now into its 8th year the awards have grown from strength to strength, honouring South Africa's spas of superlative quality.