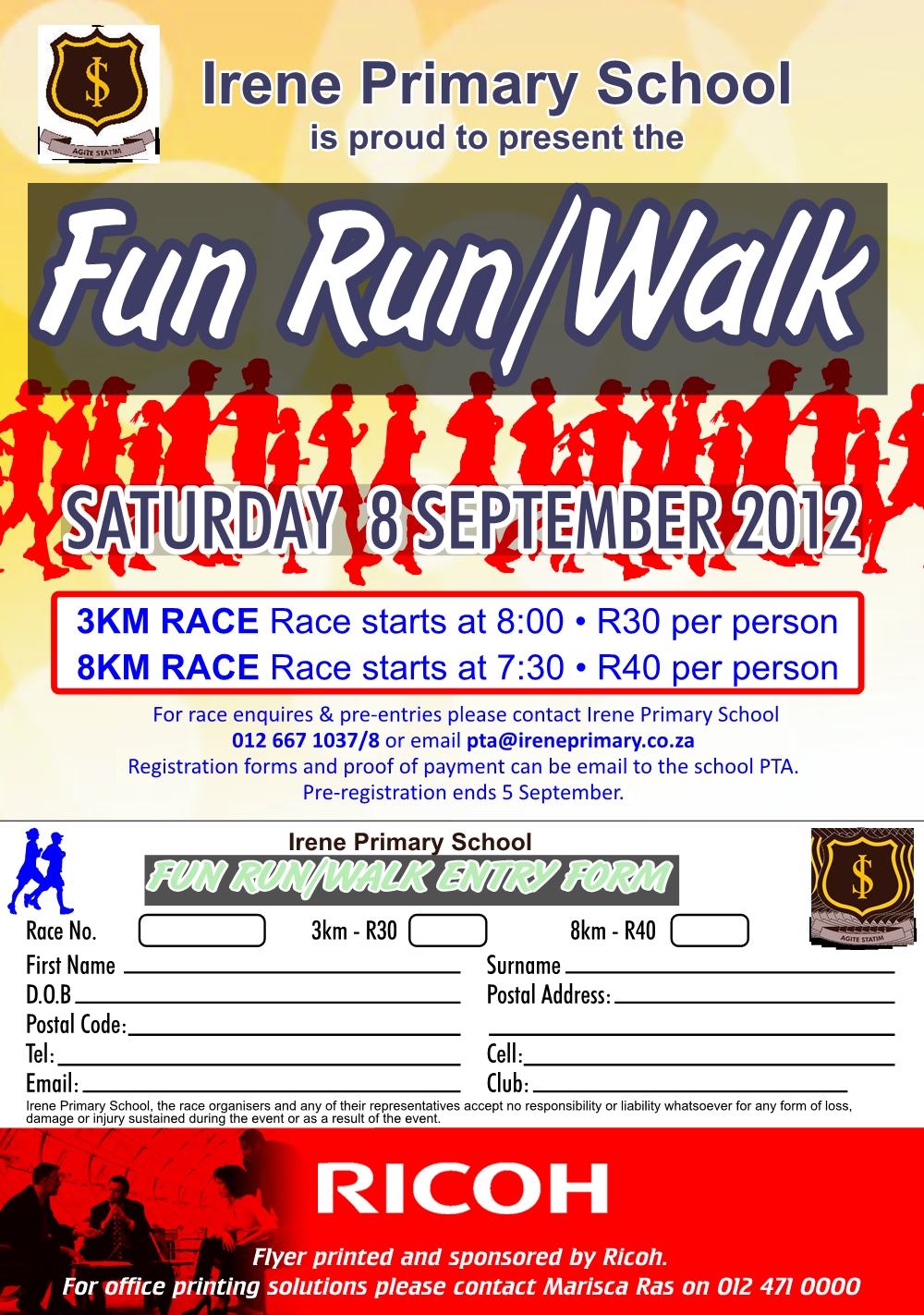 Irene Primary Fun Run/Walk
Irene Primary School will be having a Fun Run/Walk on the 8th of September 2012.
Registration for the 3km and 8km races can be done by printing the registration form and emailing it to pta@ireneprimary.co.za or dropped off at the school office on or before 5th of September 2012.
Entry Fees:
3km: R30
8km: R40
Race Rules:
1. All runners participate at their own risk and indemnify the organizers and sponsors of any liability claims by entering.
2. Marshalls and traffic officials must be obeyed at all times.
3. No seconding is permitted.
4. There's no age restriction on this race.
5. Race starting times:
3 km 7:30am
8 km 8:00am
6. Race-day entries will take place at Irene Primary School from 6:30am until 5 minutes before the race.
7. Prize-giving will take place at 09:00 at Irene Primary School.
For more information please contact 012 667 1037/8 or email pta@ireneprimary.co.za
____________________________________________________________________________________________________
Later in the month there is also the Clover Irene Spring Race hosted by Irene Road Running Club: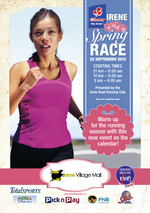 Clover Irene Spring Race
Irene Village Mall in conjunction with Clover and the Irene Road Running Club will be hosting the Clover Irene Spring Race on 22 September 2012.
Registration for the 5km, 10km and 21km races can take place online at www.irenerunner.co.za or www.enteronline.co.za.
You are also welcome to register at the following shops:
Sweat Shop Dunkeld 011 325 2567
Sweat Shop Fourways 011 467 5966
Sweat Shop Southdowns 012 665 0048
Run-A-Way Sport 012 361 3733
Bedford Runner 011 450 1847
Running Inn Pretoria 012 362 7322
Running In Kensington 011 615 0878
Centre Management Irene Village Mall 012 662 4446
Entry Fees:
5km: R30
10km: R40
21km: R50
GM: R30
GGM: Free
Temporary license: R30
Race Rules:
1. All runners participate at their own risk and indemnify the organizers and sponsors of any liability claims by entering.
2. All participants must wear a valid race number on the front and a valid 2012 license number on the back. Non-registered athletes have to purchase a temporary license. No license is required for the 5km race.
3. The race will take place under the rules of ASA, AGN and IAAF and all participants must wear club colors during the race, except if participating with a temporary license.
4. Marshalls and traffic officials must be obeyed at all times.
5. No seconding is permitted.
6. Minimum age of 15 on race day for the 10km and 16 years for the 21km.
7. Category winners must provide proof of age to qualify for prizes (ID or valid documentation).
8. There's no age restriction for the 5km.
9. Athletes competing for category prizes must wear official age category Id (front and back of vest).
10. Foreign athletes must observe IAAF rule 4, paragraph 2.
11. Race starting times:
21 km 6:00am
10km 6:00am
5km 6:05am
12. Race-day entries will take place at Irene Village Mall from 4:30am until 5 minutes before the race.
13. Prize-giving will take place at 8:00am – 10km, 9:00 – 21km.
For more information please contact 012 654 0005 / 082 937 0733 / 083 284 4884