This month's focus: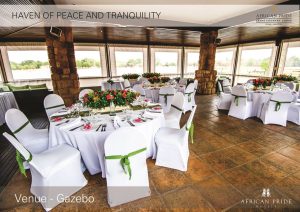 Year End Functions @ African Pride Irene Country Lodge
Looking for the ideal year end event – well look no further as we have a variety of different private venues, varying in size from small intimate venues to our larger Nomadic which is ideal for big groups. We also offer a variety of Mezze Platters, Cocktail Menu, Plated Menu or Buffet Menus that can be served.
The recent spate of rain and the arrival of our famous Highveld thunderstorms was a welcome relief to our herd as not only were we able to cool off a bit, but now we are enjoying the wonderful grass just that little bit of natural watering has helped flourish.
The calves weren't happy with the wet weather as we insisted they stay inside the barn and out of the mud! Hopefully the weather is good on the weekends for the month of Mooovember as our much anticipated Year-End Function is taking place at African Pride Irene Country Lodge. Our invitation didn't give much away, but by the sounds of it, we will be enjoying the Nomadic Experience, all 200 of us!
Hank came round to visit last week to find out a bit more about Destination Irene and what it has to offer.  It's his first Festive Season on the Irene Farm and his family have decided that they would like to visit so they can see first-hand why he thinks his new job is so moootastic (apart from the fact that he's fallen in love with Pertunia!).
I was quick to assure him that the Family Fun Getaway at African Pride Irene Country Lodge would be the mooofect option for his family to book. And while Pertunia and him get to babysit his younger siblings (which will give him some insight into her mooothering skills), he can book a Camdeboo Day Spa Date Night for his folks to enjoy.  Not only will they graze on a snack platter and some bubbly whilst putting their hooves up and watching the sunset, but they will also enjoy a Twice as Nice Full Body Massage in the couple's room – after this they will completely understand why Hank isn't keen to return to the Lowveld! Hank was most impressed with my suggestions and I am pleased to say that I have, yet again, convinced another to love Destination Irene as much as I do!
Our admin lady, Lilly, nearly rammed me over this morning in her rush to get to the office on time. I popped in a few hours later to check on her as she seemed a bit frazzled and I was right. She says the phones have not stopped ringing with people wanting to book Year-End Functions, Christmas Eve Dinner, Christmas Day lunch and they've even started enquiring about New Year celebrations!
Irene Farm just won Best Restaurant for Lunch in the Country in the Readers Choice Best of Pretoria Awards (which is not surprising) and now everyone wants to experience our restaurants first hand! Small and large companies have been enquiring about our fantastic Year-End Functions and families have already started booking the breakfast and lunch options for Christmas Day. The Barn Restaurant and the The Deck Restaurant are going to be booked out soon!
I made Lilly a cup of tea and tried to calm her down but it's no wonder the phone doesn't stop ringing – the Festive Season offerings are fantastic and Destination Irene is clearly the place to be.
On my return to the barn, I decided to get my checklist for the Festive Season in order as I don't want to be left out:
I hope all your Festive Season planning is coming together nicely…
Till next month
THE DAIRY COW