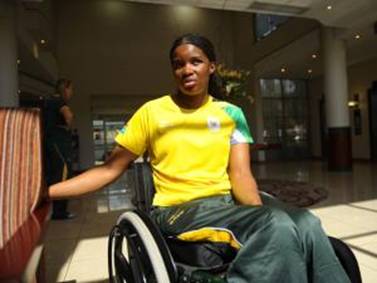 Protea Hotel Umhlanga reservationist Sandra Khumalo is in the Olympic Village in London, preparing to bring home gold.
Sandra won silver at the 2012 Final Paralympic Qualification Rowing Regatta in Belgrade, Serbia, a little earlier this year and believes the medal is within her grasp. She flew out of Johannesburg with the South African Paralympic Team on Tuesday and is now preparing for her first race – the Women's Single Scull – at 8.30am South Africa time on Friday, Aug 31.
Sandra has always led an active lifestyle, but was in a motor accident in 2005 that left her a paraplegic. As soon as she had her doctor's permission, she headed straight back to the gym, where she worked on strengthening her upper body. It was there she was introduced to rowing by a fellow gym member, and she took to the sport immediately.
"Out there alone on the water for the first time I felt independent," Sandra said. "As a paraplegic I have to be dependent on others for help every day, so it was an absolutely thrilling feeling. Rowing makes me feel whole."
Sandra has been training every day for months for the Paralympics – including the day she flew to London! She had a two-hour session on Germiston Lake on Tuesday morning, then packed her bags, participated in big press conference and got on the plane; a very very busy final day in South Africa.
Arthur Gillis says the whole Protea family will be cheering Sandra on when she races for the first time next Friday. "We are so proud of what she has achieved in difficult circumstances, and we're behind her 100% of the way. Whether Sandra brings home a medal or not, she's already a hero to all of us."